Overview of Competition
Intelli Coding Competition is a great way to enhance your Logical reasoning, tech Savviness & IQ. It will definitely give a boost to your confidence, when you compete with your peers around the nation. Intelli Coding Competition is an online competition to inspire students from Grades 1st to 12th. Grab this opportunity to design the Game, App, Graphic or Animation with the best of your creativity & ideas.
Guidelines
The Competition will be conducted Group Wise as mentioned below

A(Grades 1st and 2nd)
B(Grades 3rd and 4th)
C(Grades 5th and 6th)
D(Grades 7th and 8th)
E(Grades 9th and above)

The Coding Competition will be conducted live on Zoom.
The participants are allowed to join the competition only through Desktop or Laptop (joining through Mobile Phone is not allowed).
Screen Sharing is a must during the entire competition.
Time limit for the competition will be 2 hours.
Taking help of parents, siblings and guardians on project-related topics will not be allowed during the session. Participants can take help only in case of help required for screen sharing, connectivity issues (if any) and submission process.
The Competition will be conducted on Google Forms, comprising of –

Nine Multiple Choice Questions based on Coding and Basic A Problem Statement to Code (the participant can choose block based or Text Based Coding, irrespective of the Platform)
Submission - At the end of the competition, the form submitted must contain the link/file of the solved problem statement & external files (if any).

Solution of the Problem Statement must be recorded & must be sent as a presentation by the participant within Four Hours of Completion of Competition.
The presentation should be made & presented in English only.
Prizes and Rewards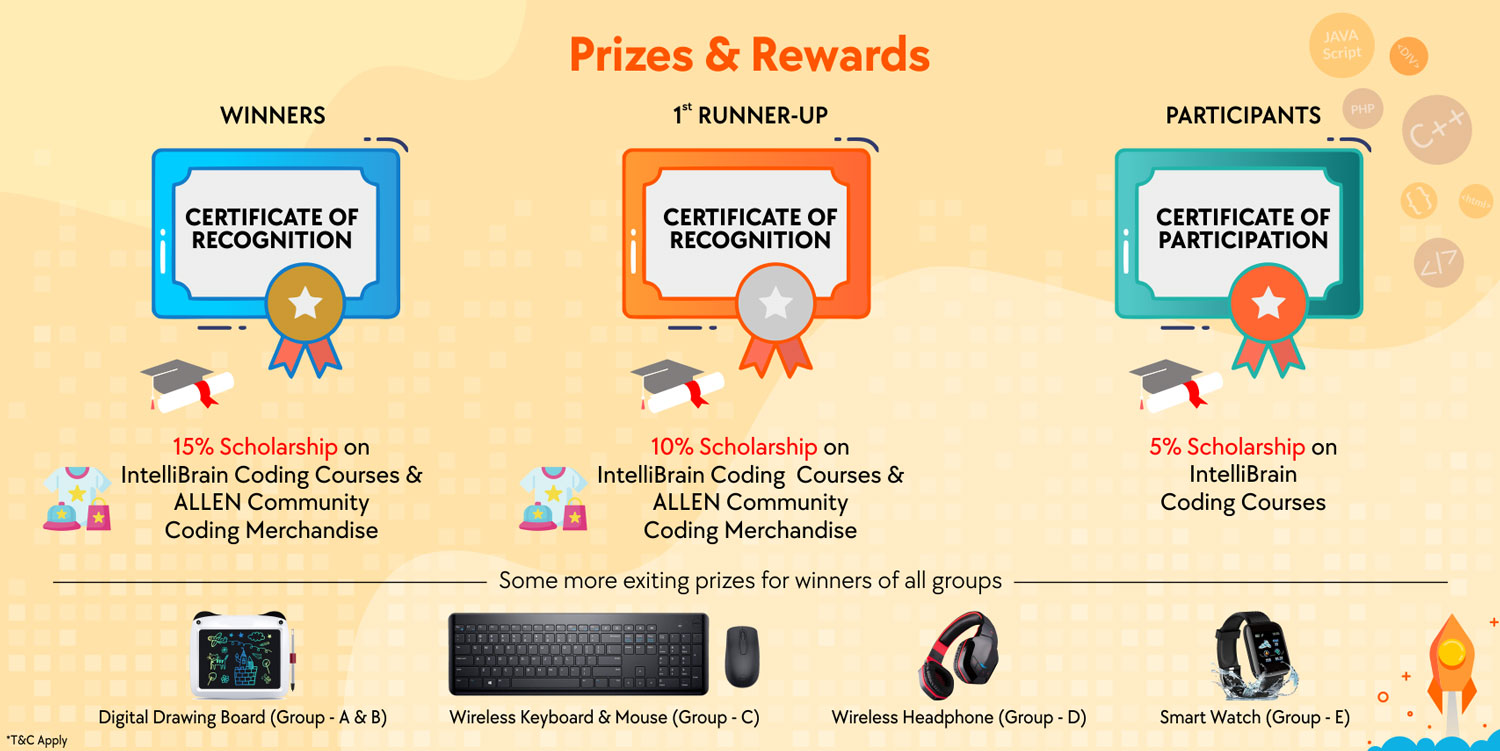 Criteria of Evaluation

FAQ's
Yes, the Competition will be conducted Live on Zoom.
All students, from grades 1st to 12th with a Knack for Coding.
Competition is absolutely FREE to register.
You are allowed to participate individually; we don't accept registrations in a team.
Any student from Grades 1st to 12th can participate in the competition.
No, the participants are required to make a project as per their choice during the competition only.
The Competition will consist of Nine Multiple Choice Questions & a Problem Statement to Code.
Participants will get 2 hours to complete the MCQs and Problem Statement.
The Presentation should be of 2-3 minutes, where the participant needs to explain the entire project and code. The presentation should be made and explained in English language only.
A form will be shared with the participant with all the required fields to submit the presentation; further information regarding the same will be shared during the competition.